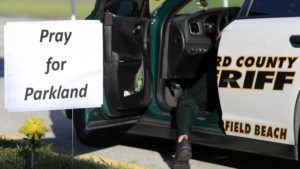 Opinions abound about WHY the horrific tragedy in South FL occurred. We are bombarded on social media with explanations on how to fix the problem. More gun control laws, armed security in every school, bringing back moral instruction, allowing Bible reading in schools…some folks blame it on the media, others on the culture, video games, or parents…Citizens blame the government. Parents blame the schools. Schools blame the parents. Young people blame the older generation. Older people blame uncontrollable, undisciplined teenagers. The left blames the right. The right blames the left. Communities blame the culture…And Christians blame the world.
People seem to use these tragedies to promote their own agendas. And it's not just the media or those with different political views! It's Christians, too. One post, written by a prominent Christian leader, blames society, bringing in the topic of national sins including abortion and the abandonment of Bible reading in public schools. But Scripture speaks toward a different reason.
II Chronicles 7:14 states, "If…My people who are called by My name humble themselves and pray and seek My face and turn from their wicked ways, then I will hear from heaven, will forgive their sin and will heal their land."
Recently I attended a conference for pastors and wives. Dr. Jim Jeffrey, former president of Clark Summit University, and a pastor, said this. "We need to allow the world to judge the church." Maybe the root of the problem is not the media, the culture, video games, or the government.
Maybe the problem is us! Maybe the first solution toward change is the church.
The book of Proverbs offers this truth: "Righteousness exalts a nation, but sin is a reproach to any people." (Proverbs 14:34) This righteousness must begin with God's people. Peter writes, "It is time for judgment to begin with the household of God; and if it begins with us first, what will be the outcome for those who do not obey the gospel of God? And if it is with difficulty that the righteous is saved, what will become of the godless man and the sinner?" (I Peter 4:17-18)
God has not promised healing for our land. The promise of II Chronicles 7:14 was for Israel, but the principle remains. We, as the church of God, the bride of Christ, need to humble ourselves, pray, seek God's face, and turn from our wicked ways. Israel's predicament was a result of their sin. Could it be that our predicament is a result of our sin as the people of God?
Isaiah recognized this principle later in Israel's history as he beheld God's glory in Isaiah 6. Isaiah had not rejected God's commandments, but his people had. Isaiah wasn't worshipping false gods, but the people were. Yet he includes himself in this prayer of repentance, "Woe is me, for I am ruined! Because I am a man of unclean lips, And I live among a people of unclean lips; For my eyes have seen the King, the Lord of hosts." We cannot expect godless people to recognize God's glory.
"A natural man does not accept the things of the Spirit of God, for they are foolishness to him; and he cannot understand them, because they are spiritually appraised." (I Corinthians 2:14) In the book of Romans, Paul further explains, "And just as they did not see fit to acknowledge God…, God gave them over to a depraved mind, to do those things which are not proper, being filled with all unrighteousness, wickedness, greed, evil; full of envy, murder, strife, deceit, malice; they are gossips, slanderers, haters of God, insolent, arrogant, boastful, inventors of evil, disobedient to parents, without understanding, untrustworthy, unloving, unmerciful…" (Romans 1:28-31)
Remember, Jesus never promised peace in this world! Instead He told his disciples, "In the world you will have tribulation, but take courage; I have overcome the world." (John 16:33) Paul told Timothy not to be surprised by the wickedness of the culture. "Evil men and impostors will proceed from bad to worse, deceiving and being deceived." (II Timothy 3:13)
So why are we so surprised by these tragedies? Why do we believe that human solutions will solve spiritual issues?
Jesus taught us how to respond to tragedies such as the Florida school massacre. He didn't blog about the evils of society.  He didn't preach vengeance on the Roman government. He didn't use his time to engage in politics as the means to make His world a safer place. Instead, we read, "Seeing the people, He felt compassion for them, because they were distressed and dispirited like sheep without a shepherd." (Matthew 9:36)
We speak into the tragedy, not with our own words, but through our lives. We speak into the tragedy, not with our own opinions or judgments, but with the good news of the Gospel – that Jesus loves the world and gave His life that whoever believes in Him will have eternal life. Through Him there is HOPE. Through Him we have peace. Through Him we have life.
This hope we have as an anchor of the soul… (Hebrews 6:19)
Peace I leave with you; My peace I give to you; not as the world gives do I give to you. Do not let your heart be troubled, nor let it be fearful. (John 14:27)
For this is the will of My Father, that everyone who beholds the Son and believes in Him will have eternal life, and I Myself will raise him up on the last day. (John 6:40)